Regular price
Sale price
$62.00 USD
Unit price
per
Sale
Sold out
By using the BioBin with the Pet Waste Wizard Bacteria you can make dog waste disappear and control odours. It's a must-have for any responsible pet owner that would like to environmentally dispose of their pet waste. The bin is suitable for both cat (only use biodegradable kitty litter) and dog waste. The paper sachets contain bacteria that is made specifically to deal with the types of matter that pets eat. The Pet Waste Wizard® bacteria will also work with any other device you currently own. 
Biomaster's BioBin will:
Break the waste down faster
Attract worms to your garden
Help stop the poo from smelling
Stop the poo going to landfill 
How it works:
The worms come up from the soil and the bacteria breaks down the waste from the top. 

Never let your BioBin dry out, it should always be damp. If droppings are left to dry out in the sun and are very hard, add more water. If droppings are soft/wet use less water.
One of our 'Pet Waste Wizard' sachets will treat the waste of one large dog for 30 Days or 2 small dogs for 30 Days.
Do not add pet poo to the digester for 48 hours after worming.
The bin can be moved to other parts of the garden so you can add nutrition to different garden beds. (Do not use in Vegetable gardens - but it is ok to place under fruit trees).
Share
View full details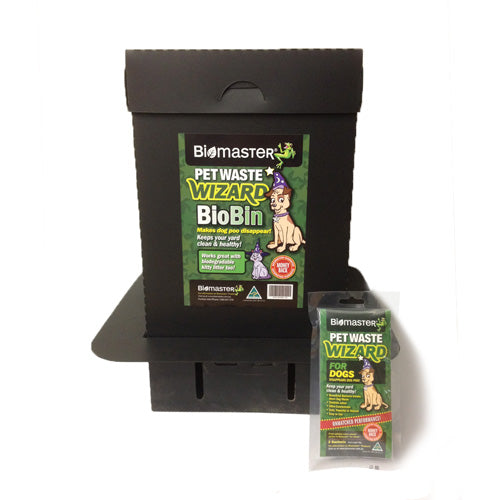 Environmentally Friendly

Australian Owned and Made

Free Standard Postage

Money Back Guarantee

Fast Acting - Great Results

We are here when you need us
Who is Biomaster?
★ ★ ★ ★ ★
We create products to treat different types of waste with good bacteria without using harmful toxic chemicals.
Solve these problems with beneficial bacteria